Australian Olympic Women: BMX
World No.2 Caroline Buchanan is Australia's leading lady. Also an accomplished mountain bike competitor, Buchanan is as hungry for a medal in London as they come.
Nipping at her wheel in the quest for Olympic glory is World No.5 Lauren Reynolds who edged out teammate and world No.6 Melinda McLeod for Olympic selection by just three points. Reynolds tasted success at the London course winning bronze at the Test Event last year and will look to build on that stunning form at the Games.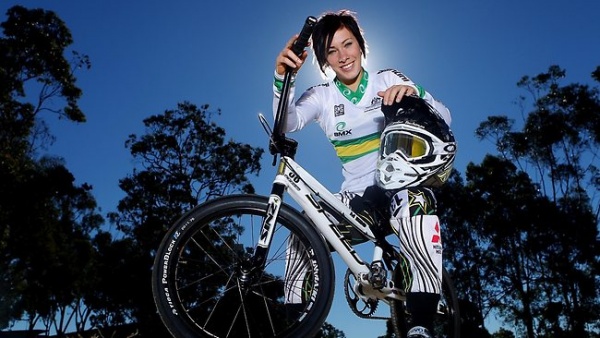 What does going to the Olympics mean for you? A life long dream and a goal that I have ticked off one of the boxes to qualify for the Australian Team. Ever since I was a little girl I looked up to the Olympians as my superheros and being to young for BMX's debut into the Olympics in Beijing 2008 really has made me hungry to qualify and be on top of my game and in my best ever form for London.
I have always wanted to get to the highest level of sport and represent my country. I feel as though Olympics is so much bigger and feels like I am part of something so much more than wearing the Aussie green and yellow and going to World Championships I am making history and inspiring women and the next generation of athletes.
How did you feel when you made the team? It has been a long road to the top and just to qualify on the Australian Team was an accomplishment in itself. Australia is the highest ranked nation in the men and women we had a solid 3 fast competitive girls and only 2 spots were up for grabs.
What are you looking forward to most about London? Definitely the atmosphere and the vibe and enjoying the moment and thriving and excelling under that environment. I had had a taste of a huge crowd and amazing atmosphere when I won my home town first Mountain Bike World Championship... that was only roughly ten thousand spectators and there will be more in London and the world watching so I cant wait!
Caroline Buchanan's Sport for Women profile
Caroline Buchanan's Australian Olympic Team profile
What does going to the Olympics mean for you? A dream come true! Its such a special sport and to be a part of this Olympics, doing what I love, riding my bike it amazing and means so much. Something I'll never forget.
How did you feel when you made the team? One of the best days of my life. It was my 21st Birthday so very emotional and special day.
What are you looking forward to most about London? Representing my country the best I can, enjoying every moment and doing everything I can to get the gold medal. Of course to meet so many other amazing athletes is a bonus.
Lauren Reynolds' Sport for Women profile
Lauren Reynolds' Australian Olympic Team profile
Brought to you by: sportsister.com
Basic Rules
There will only be 16 women competing, and riders will race in groups of eight. In order to avoid the top seeds all being in the same heat, riders must do one lap of the course to determine their seeding.
The top two riders from the first three heats will then progress to the semi-finals. A three-run semi, sees the top four riders semi progress to the final medal winning race.
The outdoor dirt track begins with riders on top of an 8m high ramp. Riders then tackle bumps, jumps and tight banked corners as they race for around 40 seconds per round.
Jargon Buster
Wheelie: Lifting the front wheel off the ground, or riding on the rear wheel only, usually with some combination of pulling on the handlebars, pedaling harder and balance
Doubles or whoops: The bump or undulations in the track. Doubles is two in a row
Holeshot: The rider who is first through the first turn
Manual: To ride on the rear wheel without pedalling, typically over the top section of jumps
Berm: A banked corner
Bunny hop: To lift both wheels off the ground by crouching down and then exploding upward, pulling the bike with you