Australian Olympic & Paralympic Women: Basketball
Opals: Abby Bishop, Belinda Snell, Elizabeth Cambage, Jenna O'Hea, Jenni Screen, Kathleen Macleod, Kristi Harrower, Laura Hodges, Lauren Jackson, Rachel Jarry, Sam Richards and Suzy Batkovic
Gliders: Amanda Carter, Amber Merritt, Bridie Kean, Clare Nott, Cobi Crispin, Katie Hill, Kylie Gauci, Leanne Del Toso, Sarah Stewart, Sarah Vinci, Shelley Chaplin and Tina McKenzie.
It is quite overwhelming to be part of the Paralympics because it is the highest possible sporting event an athlete with a disability can compete in.
It is the event you have been training so hard for over the last 4 years so when you are finally there it is a surreal feeling. Beijing was my first Paralympics so right from the time we first entered the athlete villiage to when we were flying back home I was overwhelmed with just how massive the event is and how great it is to be a part of.
When your a little girl watching the Paralympics you are in awe of the Paralympians and what they have achieved just to be there. To finally be there and have small children look at you in awe is very humbling.
How did you feel when you made the team?
Relief! It is one of the most stressful times in an athletes career. Each athlete in the Gliders squad has to individually go into a meeting room with the three coaches. It is quite intimidating. We weren't allowed to say anything until the official announcement, so it wasn't until about a month after where it all became real and I began to get very excited about being part of the team.
What are you looking forward to most about London? I have been watching the Olympics on tv and it's very exciting to know that I am going to be at all those places. I am very excited about attending the opening ceremony because we didn't go to the opening in Beijing because we had an early game the next day. I am also very excited about the fact that my husband will be there to watch me play.
Clare Nott's Sport for Women profile
Clare Nott's Australian Paralympic Team profile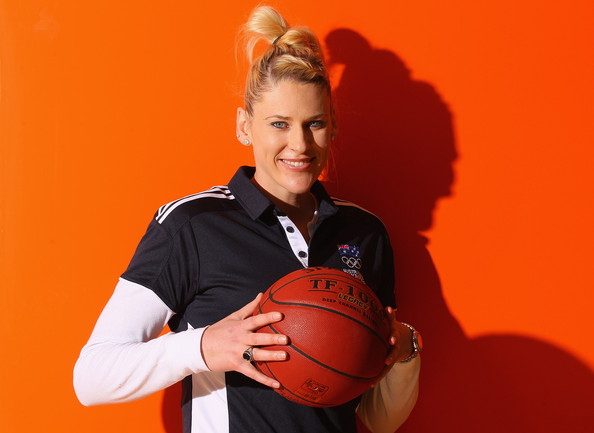 What does going to the Olympics mean for you? Well it is the most prestigious stage for any athlete to represent their country on. The world stage. I am very patriotic and putting on the green and gold still gives me shivers. Representing Australia to me is so important because I am representing my family, friends and supporters as well as the broader Australian community which is very special to me.
How did you feel when you made the team? Elated. Like I said, it is the most important thing in the world for me and I cherish being able to represent Australia like this.
What are you looking forward to most about London? A lot of things, I mean the basketball is #1, but the excitement around the Aussie camp and the spirit of the fans and the games is just so powerful, it brings out a range of emotions that you can't replicate anywhere else.
Lauren Jackson's Sport for Women profile
Lauren Jackson's Australian Olympic Team profile
Suzy Batkovic, Lauren Jackson, Samantha Richards
The Paralympic games is the biggest sporting event in the world outside of the Olympic games. It means everything to me to represent my country on the word stage and thanks to the ABC my family and friends get an opportunity to watch me play.
I'm very excited to attend my third Paralympic Games and determined, I was confident that I would be selected on the team but I wanted to be the very best that I could be for my team come London.
Shelley Chaplin's Sport for Women profile
Shelley Chaplin's Australian Paralympic Team profile
What does going to the Olympics mean for you? It means everything. I dreamt about it as a little girl and I've spent so long putting in hard work and long hours and I feel like it's paying off.
How did you feel when you made the team? It didn't sink in at the start and it probably took a good couple of weeks to really feel excited and to properly understand that I was about to head to an Olympic Game.
What are you looking forward to most about London? The whole Olympic experience and being able to share that with the rest of my team mates. We want to achieve something special together so I can't wait to just get out on court.
Rachel Jarry's Sport for Women profile
Rachel Jarry's Australian Olympic Team profile
Brought to you by sportsister.com
Jargon buster
Assist: a pass that directly leads to a teammate scoring a basket.
Lay-up: A close range one-handed shot from off the backboard.
Shot clock: A timer which measures the amount of time since the last shot. The ball must touch the rim or pass through the net within 24 seconds otherwise possession goes to the opposition.
Slam dunk: A slam shot directly into the net.
Time-out: If the coach makes a T-sign with his hands play is stopped for one minute so he can hold a team talk.
Basic rules
Twelve teams will compete in the women's competition, with 12 athletes (five players and seven substitutes) on each team.
Points are scored by shooting the ball into your opponents' net (or basket). The ball must be moved up the court by dribbling or passing it to another team member and no more than two steps can be taken by a player with the ball without them dribbling it.
Two points are awarded for a regular shot from open play, with one point for each successful free throw (following an opposition infringement) and three points for a shot from distance (beyond the three-point line).
Competition will begin with a preliminary stage before the 12 teams are divided into two groups of six with each team playing every other in their group. The top four teams from each group qualify for the knockout stage, where the winners of the semi-finals will go head-to-head for the gold medal.