What is Sportswomen K.I.S.S.
Ovarian Cancer Australia (OCA) is the proud official charity of Sport for Women.
Sportswomen K.I.S.S. is an information campaign we're running to help OCA raise awareness of the signs and symptoms of ovarian cancer.
Know the Important Signs and Symptoms!
Register your support for this fun information campaign in the form here, then invite your friends and family to this page.
Being aware of these symptoms and risk factors could not only save your life but the life of someone you care about.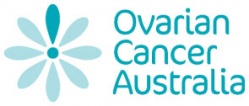 Together We Can Save Lives
One in 77 women will develop ovarian cancer in their lifetime. Nearly 70% of those with the disease, sooner or later succumb to it.
But if it is found in the early stages, up to 95% of women will be alive and well after five years.
Unfortunately there are currently NO reliable early detection test or screening program for ovarian cancer.
Please, help us raise as much awareness as possible of these signs and symptoms:
Abdominal or pelvic pain
Abdominal bloating
Needing to urinate often
Feeling full quickly
These Sportswomen K.I.S.S... do you?